Model NO.: element screws sectional barrel
Plastic Processed: PVC
Automation: Automatic
Screw Elements: Segment Screw
Specification: ISO9001: 2008
HS Code: 84779000
Type: Profile Extruder
Screw: Twin-Screw
Computerized: Computerized
Trademark: Zhongyang
Origin: Zhoushan, China
Screw elements and segmented barrel(bimetallic sleeve/bushing), extrusion screw barrel, plastic machinery extrusion screw barrel

Pls check detailed info. As below:

Specification:

Parallel twin screw diameter: Φ 18-Φ 177mm

Material:

1)W6Mo5Cr4V2

2)38CrMoAlA(JIS SACM645)

3)42CrMo(AIS14140)

4)S45C

Bimetallic material:

Ni-based alloy+tungsten carbide

Technics:

1)Heat treatment

2)Nitriding treatment

3)Vacuum quenching

4)Centrifugal casting

Technical parameter:

D/d ratio: 1.55

Nitrided layer depth: >=0.4mm

Nitrided hardness: 900-1000HV

Bimetallic layer: 3mm

Terms and Conditions:

Production time: 25 days

Packing: Export standard(as customers' requests)

Trade Terms: FOB, CNF, CIF or DHL, TNT

Payment Terms: T/T, L/C

Warranty and service: 1 year

Our advantages:

1)Excellent raw materials

2)Good customer services and technical services

3)Competitive pricing

4)Rigorous quality inspection

5)On time delivery

Experienced manufacturer, we will be the best choice.

A transmission oil cooler is often considered essential in high-strain situations because a transmission's lubricating fluid heats up with each gear change. While not crucial for highway driving when vehicles more or less stay within a few gears, transmission coolers can markedly improve the performance and longevity of transmissions that are subjected to a great deal of stress. Overheated transmission oil can lead to slower gear shifts, worn seals, lower mileage, and, ultimately, premature failure.

Even though the main job is to cool and lubricate the engine, this part can also act as an important coolant for a number of other parts. A motor's bottom end, which includes parts such as the crankshaft, bearings, camshaft, rods, and pistons, is also cooled only by engine oil, for instance, and this cooling can impact overall performance just as much as it could in the engine itself.

As an important type of engineer oil cooler, stacked-plate designs, force oil through a series of metal plates. Heat dissipates as air moves across the plates, and the oil cools faster when it has greater surface area and is shallower, too. The oil cooler can improve the engineer`s performance and longevity, and also can help lubricate the gears of a vehicle`s transmission system.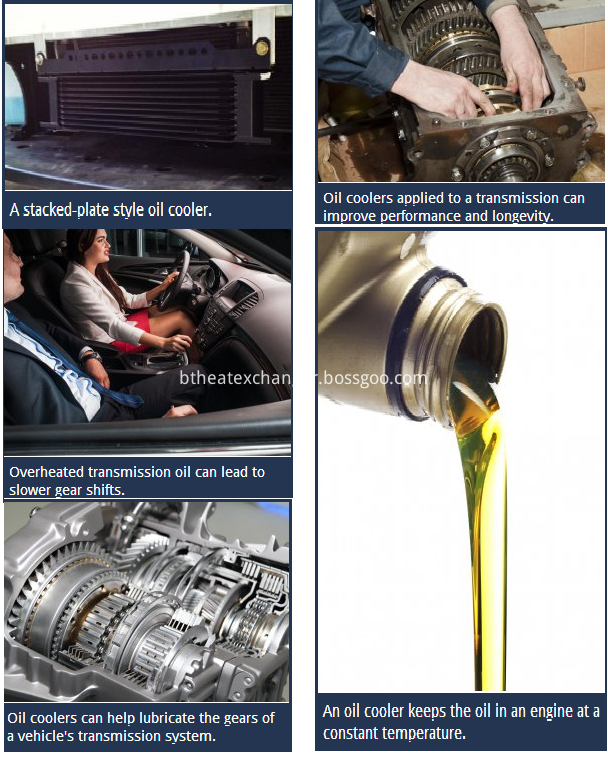 Engine Oil Cooler,Stacked Plate Oil Cooler,Car Oil Cooler,Transmission Oil Cooler

Wuxi Better Technology Co., Ltd , https://www.btheatexchanger.com