Model NO.: ATS Series

Customized: Customized

Certification: CE, ISO9001:2008

Condition: New

Voltage: 380V 50Hz or Customized

Electric Components: ABB,Schneider,Ls,Omron, or Customized

Pelletizing Type: Strand/Die-Face Pelletizing

Capacity Range: 150-1500kg/H

Trademark: ACERETECH

Transport Package: Wooden Pallet

Specification: CE, TUV

Origin: Jiangsu Zhangjiagang

HS Code: 8477209000

Full Automatic PVC Material Masterbatch Compounding Granulating Machine

Definition:

PVC cable materials are special pellets that based on PVC resin, added calcium carbonate and other inorganic filler, plasticizers, additives, lubricant additives, etc, after mixing, compounding and extrusion.

 

Characteristics of product:

1.     High resistance to breakdown strength

2.     Low dielectric loss

3.     Good and stable insulation

4.     Good softness

5.     Good mechanical properties and electric properties

6.     Strong acid and alkali resistance, good chemical stability

 

Application:

it is suitable for thin plate, wire and cable insulation, seal, etc.

 

Production line:

Introduction of ATS two-stage compounding line

To produce PVC cable materials, we generally use ATS two-stage compounding line. ATS Two-stage compounding line includes ATE Twin screw extruder, ASE Single screw extruder and down-stream pelletizing system. The first stage is to realize the polymers compounding job, second stage is to extrude the compounds with gentle and lower temperature, then pelletizing through the down-stream cutting system.

About the pelletizing system

Multiple cutting systems also can be adopted in the ATS compounding line. Thanks to the modular design principle, both Instrument control and PLC control are also available to be applied in the ATS electrical controlling system. All the key electrical parts adopt European brands to guarantee the controlling system with significant and stable performance.

To produce PVC cable materials, we usually use the pelletizing system: air-cooling die-face hot cutting. It has the advantage: combine high-speech and strong-compounding of twin-screw extruder with low-speech, low-temperature and weak-shear of single-screw extruder. It is the first choice when produce heat-sensitive or shear-sensitive material.

 

Production process

1. Measuring feeding machine 

2. First stage: twin screw extruder 

3. Second stage: single screw extruder

4. Air-cooling die-face hot cutting 

5. Cyclone separator 

6. Air cooling extended vibrating screen 

7. Metering packaging weigher

Main technical specification:

Machine size

Screw Diameter
(mm)

Screw Speed Max.
(rpm)

Motor Power
(Kw)

Throughput Rate
(Kg/h)

ATS52/120

ATE52

51.4

600

55

150-300

ASE120

120

85

37

ATS65/150

ATE52

62.4

600

90

300-500

ASE150

150

85

45

ATS75/180

ATE75

71

600

132

500-800

ASE180

180

85

55

ATS95/200

ATE95

93

600

250

800-1500

ASE200

200

85

75
 

Characteristics of this set of equipment:

1.     Good mixing effect and the temperature control is convenient

2.     Covers a small area and doesn't need large electricity

3.     Raw material mixing and granulating are entirely automatic, human demand is small

4.     High-safety and can reduce raw materials' damage and deterioration

 

About our service:

PVC Cable Extruder Before-sale  

1.     Introduce products and applications detain

2.     Recommend suitable solution

3.     Provide with reference information

4.     Offer lab for test     

During Manufacturing          

1.     Provide with layout and engineering conditions

2.     Inform the project processing status

3.     Offer other documents

 After-sale

 1. Provide with installation, commissioning and training

2. Register and record customer information

3. Offer spare parts

4. Provide with necessary technical support for new application

5. Visit customer regularly and correct information

Better-tech supplies all kinds of connections, Thread Connectors, flanges, valves, Radiator Connectors, elbow, tee, etc. Material may be aluminum, copper, stainless steel etc. Our connectors have many good characteristics of strong connection, good pressure-resistance, excellent sealing performance, easy installation & maintenance ,safe and reliable and so on. Better tech also customizes all kinds pipes and fittings upon your requirement.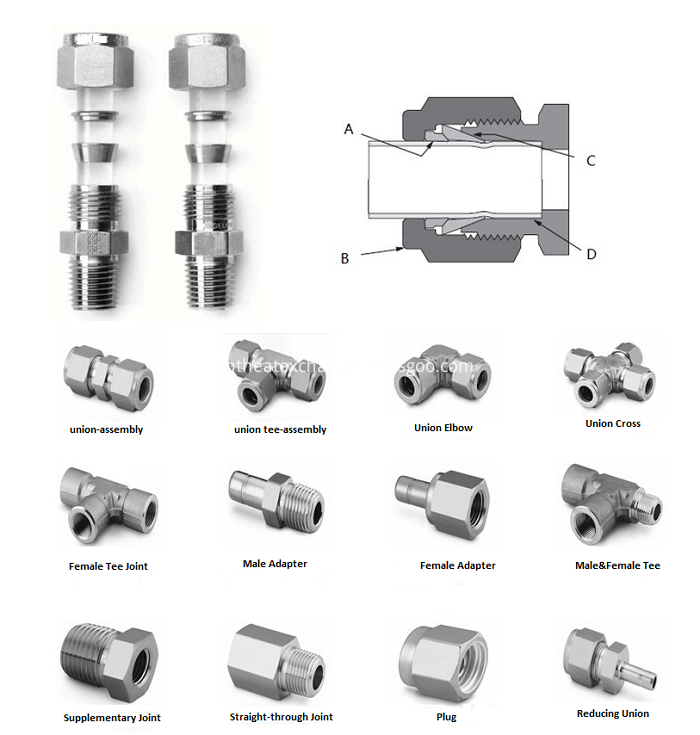 Copper Connections,Aluminum Connectors,SS Fittings,Thread Connectors,Radiator Connectors,Pipe Fittings

Wuxi Better Technology Co., Ltd , http://www.btheatexchanger.com