Model NO.: BAJAJ135 -TMM

Certification: CCC

Place of Origin: China (Mainland)

Product Name: Motorcycle Headlight

Packaging Details: Motorcycle Headlight Package: Blister Package

Delivery Detail: Motorcycle Light 10-20days Upon Receiving Advance

Brand Name: OEM

Export Markets: Global

Sample: Available

Suitable Model: Various Motorcycle Model

Working Life: 50000h

Lamp Type: LED Tail Light

Trademark: OEM

Specification: A class

Origin: China(Mainland)

HS Code: 8714

Model NO.: BAJAJ135 -TMM

Certification: CCC

Place of Origin: China (Mainland)

Product Name: Motorcycle Headlight

Packaging Details: Motorcycle Headlight Package: Blister Package

Delivery Detail: Motorcycle Light 10-20days Upon Receiving Advance

Brand Name: OEM

Export Markets: Global

Sample: Available

Suitable Model: Various Motorcycle Model

Working Life: 50000h

Lamp Type: LED Tail Light

Trademark: OEM

Specification: A class

Origin: China(Mainland)

HS Code: 8714

specific information of other motorcycle Turning Light
| | | | | | | | |
| --- | --- | --- | --- | --- | --- | --- | --- |
| series NO. | Item name | model | Unit | Material | MOQ | qty/ctn | Carton Size CM  |
| 1 | TURNINGÂ LIGHT | Â XR250Â  | Â PCSÂ  | PS,ABS | 600 | Â  | Â  |
| 2 | TURNINGÂ LIGHT | Â BWS125Â  | Â PCSÂ  | PS,PP | 600 | 200 | 68*42*35 |
| 3 | TURNINGÂ LIGHT | Â BWS125Â  | Â PCSÂ  | PS,PP | 600 | 200 | 68*42*35 |
| 4 | TURNINGÂ LIGHT | Â XR250Â  | Â PCSÂ  | PS,ABS | 600 | Â  | Â  |
| 5 | TURNINGÂ LIGHT | Â BWS125Â  | Â PCSÂ  | PS,PP | 600 | 200 | 52*28*35 |
| 6 | TURNINGÂ LIGHT | Â BWS125Â  | Â PCSÂ  | PS,PP | 600 | 200 | 52*28*35 |
| 7 | TURNINGÂ LIGHT | Â RTXÂ  | Â PCSÂ  | PS,ABS,LED | 500 | 100 | 75*36*30 |
| 8 | TURNINGÂ LIGHT | Â DISCOVER125STÂ  | Â PCSÂ  | PS,ABS | 500 | Â  | Â  |
| 9 | TURNINGÂ LIGHT | Â PULSAR135Â  | Â PCSÂ  | PS,ABS | 1000 | 120 | 69*30*40 |
| 10 | TURNINGÂ LIGHT | Â PULSAR200NSÂ  | Â PCSÂ  | PS,ABS | 1000 | 100 | 57*36*37 |
| 11 | TURNINGÂ LIGHT | Â CB110Â  | Â PCSÂ  | PS,ABS,PP | 1000 | 120 | 63*39*41 |
| 12 | TURNINGÂ LIGHT | Â CBF125Â  | Â PCSÂ  | PS,ABS | 1000 | 100 | 63*38*35 |
| 13 | TURNINGÂ LIGHT | Â ECOÂ DELUXEÂ  | Â PCSÂ  | PS,ABS | 1000 | Â  | Â  |
| 14 | TURNINGÂ LIGHT | Â RX150/FT150Â  | Â PCSÂ  | PS,ABS | 600 | 200 | 78*36*45 |
| 15 | TURNINGÂ LIGHT | Â AX4Â  | Â PCSÂ  | PS,ABS,PP | 600 | 120 | Â  |
| 16 | TURNINGÂ LIGHT | Â AX4Â  | Â PCSÂ  | PS,ABS,PP | 600 | 120 | Â  |
Advantages of this Motorcycle Tail light:

1.Extremely strong spotlight, flightshot much further, force of penetration bigger,sight line much better.

2.No stabilizer,12v DC type,quality  much stabler, percentage of products sent back for repair under 0.5%.

3.Install easily,connect with original plug is ok,start quickly, no  delayed.

4.Comsuption very low, 5pcs LED less than 20w , energy saving 60% higher than  halogen light ,           brightness raised 2.5 times.

5.Service time very long , higher than 50,000 hours .

 

Features:

1. Advantages in the resources of motorcyle parts fields;

2. Competitive price and stable quality;

3. Elaborate packing; Professional product delivery;

4. Perfect management system and quality control system;

5. Strong technology support, capable of new product development.

6.This is   Blue Color and BAJAJ135 Turning Lamp ,Motorcycle Turning Litght   

Company Profile

Shenzhen derui sourcing Co., Ltd is subsidiary of TIMRCH (HK) industrial Co., Limited which was founded in HK at year 2005. With more than 10 years merchandise-sourcing experience in providing complete end to end sourcing solutions from products concept to after-sale support. Our local background, leverage and 10 years experience avail our clients of the best cost performance.

Shenzhen Derui Sourcing Co., Ltd has recognized a very professional and highly efficient team with focus on details, quality control, service and won good reputation among our international clients around the world throught helping them sourcing the best cost proformance products made in China and setting up their own complete supply chain in China.

specific information of other motorcycle Turning Light
| | | | | | | | |
| --- | --- | --- | --- | --- | --- | --- | --- |
| series NO. | Item name | model | Unit | Material | MOQ | qty/ctn | Carton Size CM  |
| 1 | TURNINGÂ LIGHT | Â XR250Â  | Â PCSÂ  | PS,ABS | 600 | Â  | Â  |
| 2 | TURNINGÂ LIGHT | Â BWS125Â  | Â PCSÂ  | PS,PP | 600 | 200 | 68*42*35 |
| 3 | TURNINGÂ LIGHT | Â BWS125Â  | Â PCSÂ  | PS,PP | 600 | 200 | 68*42*35 |
| 4 | TURNINGÂ LIGHT | Â XR250Â  | Â PCSÂ  | PS,ABS | 600 | Â  | Â  |
| 5 | TURNINGÂ LIGHT | Â BWS125Â  | Â PCSÂ  | PS,PP | 600 | 200 | 52*28*35 |
| 6 | TURNINGÂ LIGHT | Â BWS125Â  | Â PCSÂ  | PS,PP | 600 | 200 | 52*28*35 |
| 7 | TURNINGÂ LIGHT | Â RTXÂ  | Â PCSÂ  | PS,ABS,LED | 500 | 100 | 75*36*30 |
| 8 | TURNINGÂ LIGHT | Â DISCOVER125STÂ  | Â PCSÂ  | PS,ABS | 500 | Â  | Â  |
| 9 | TURNINGÂ LIGHT | Â PULSAR135Â  | Â PCSÂ  | PS,ABS | 1000 | 120 | 69*30*40 |
| 10 | TURNINGÂ LIGHT | Â PULSAR200NSÂ  | Â PCSÂ  | PS,ABS | 1000 | 100 | 57*36*37 |
| 11 | TURNINGÂ LIGHT | Â CB110Â  | Â PCSÂ  | PS,ABS,PP | 1000 | 120 | 63*39*41 |
| 12 | TURNINGÂ LIGHT | Â CBF125Â  | Â PCSÂ  | PS,ABS | 1000 | 100 | 63*38*35 |
| 13 | TURNINGÂ LIGHT | Â ECOÂ DELUXEÂ  | Â PCSÂ  | PS,ABS | 1000 | Â  | Â  |
| 14 | TURNINGÂ LIGHT | Â RX150/FT150Â  | Â PCSÂ  | PS,ABS | 600 | 200 | 78*36*45 |
| 15 | TURNINGÂ LIGHT | Â AX4Â  | Â PCSÂ  | PS,ABS,PP | 600 | 120 | Â  |
| 16 | TURNINGÂ LIGHT | Â AX4Â  | Â PCSÂ  | PS,ABS,PP | 600 | 120 | Â  |
Advantages of this Motorcycle Tail light:

1.Extremely strong spotlight, flightshot much further, force of penetration bigger,sight line much better.

2.No stabilizer,12v DC type,quality  much stabler, percentage of products sent back for repair under 0.5%.

3.Install easily,connect with original plug is ok,start quickly, no  delayed.

4.Comsuption very low, 5pcs LED less than 20w , energy saving 60% higher than  halogen light ,           brightness raised 2.5 times.

5.Service time very long , higher than 50,000 hours .

 

Features:

1. Advantages in the resources of motorcyle parts fields;

2. Competitive price and stable quality;

3. Elaborate packing; Professional product delivery;

4. Perfect management system and quality control system;

5. Strong technology support, capable of new product development.

6.This is   Blue Color and BAJAJ135 Turning Lamp ,Motorcycle Turning Litght   

Company Profile

Shenzhen derui sourcing Co., Ltd is subsidiary of TIMRCH (HK) industrial Co., Limited which was founded in HK at year 2005. With more than 10 years merchandise-sourcing experience in providing complete end to end sourcing solutions from products concept to after-sale support. Our local background, leverage and 10 years experience avail our clients of the best cost performance.

Shenzhen Derui Sourcing Co., Ltd has recognized a very professional and highly efficient team with focus on details, quality control, service and won good reputation among our international clients around the world throught helping them sourcing the best cost proformance products made in China and setting up their own complete supply chain in China.

CNC Machining is typically used for projects requiring one-offs to multiple hundreds of parts. We offer a broad range of materials (CNC Metal Machining) from plastic (CNC Plastic Machining) to metal. Furthermore, we offer various finishing services which include sandblasting, painting, anodizing, polishing, printing etc.


We also offer the production of precision-machined components. Our precision engineering department offers milling, turning, CNC engineering, surface grinding, wire erosion and EDM spark erosion. All of your projects will be discussed carefully and checked before production starts. During and after production the parts will be 100% inspected. We can provide original certificates for all materials used in the project as well.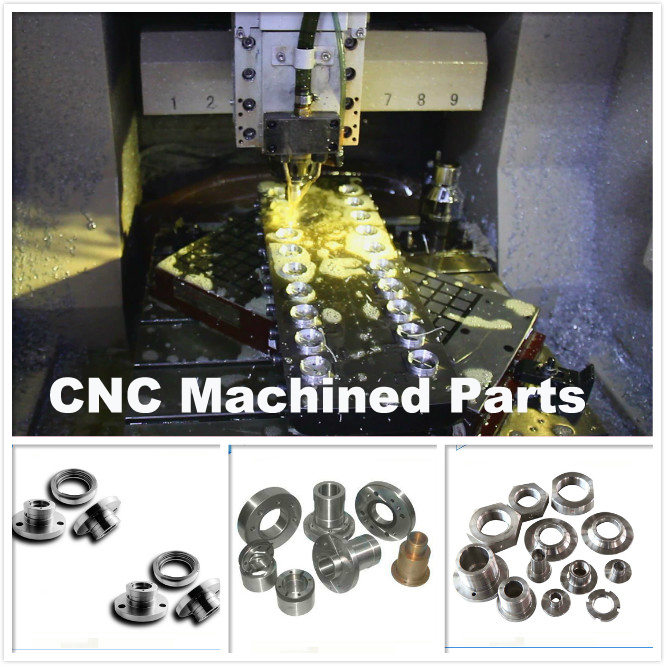 CNC Machined Parts,CNC Machined Aluminum Parts,CNC Small Batch Production,CNC Batch Production,CNC Machining,CNC Metal Machining

YuYao Haoyi Model Factory , http://www.china-prototyping.com